These Pumpkin Spice Blondie Bites are the perfect fall dessert.
This super easy pumpkin spice recipe can be whipped up in a hurry.
Printable Recipe Card with a Full List of Ingredients and Instructions is Located at the Bottom of the Post.
Be sure to read through the entire post so that you don't miss out on any important tips and tricks!
It's that time of year again.
The warm weather is coming to an end and the kids are heading back to school.
That means it's time to break out the pumpkin spice.
I actually don't even like pumpkin but I love pumpkin spice.
I decided to come up with a pumpkin free pumpkin spice dessert.
I love blondies and I thought blondies and pumpkin spice would be the perfect combination.
I started by combining brown sugar, melted butter, vanilla and an egg.
Then I added in some flour and pumpkin spice.
I stirred with a wooden spoon until all of the ingredients were fully combined.
I sprayed some mini muffin pans with Pam Spray For Baking
.
I use this cooking spray for pretty much everything because I find it way less greasy than other sprays and also very effective.
I've never had trouble removing anything from a pan when using this spray.
I spooned the blondie batter into the greased muffin tins filling the cups about two thirds of the way.
The blondies were baked for about 15 minutes until a toothpick inserted in the center came up clean.
I allowed the blondies to cool for a few minutes before removing them from the pan and setting them aside to cool completely.
It is important to make sure they are completely cooled before frosting or it will just melt.
I used a piping bag and a large star tip to top my blondies with store bought cream cheese frosting.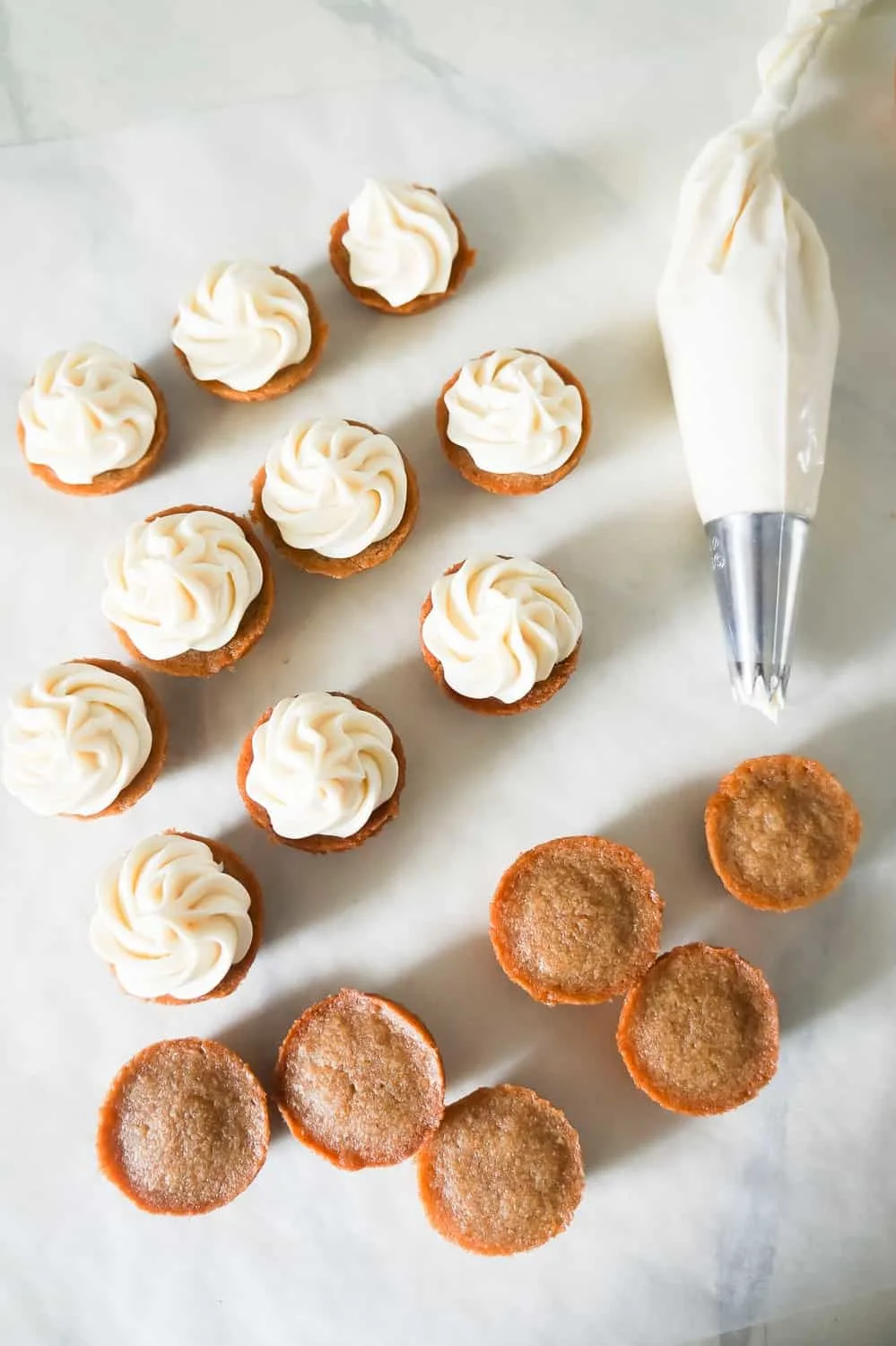 After frosting I sprinkled some more pumpkin spice on top.
These Pumpkin Spice Blondie Bites are super rich and chewy.
If you are looking for the perfect fall dessert recipe be sure to give these Blondies a try.
These blondies would be the perfect mini treats to serve your guests for Thanksgiving.
If you are looking for more easy dessert recipes check out 4 Ingredient Apple Crumbles, Easy Chocolate Peanut Butter Fudge, Caramel Chocolate Cream Cheese Stuffed Cookies, and Peanut Butter Cookie S'mores Cups.

CLICK HERE to save this recipe on Pinterest!
⇒ Click Here And Follow Me On Pinterest ⇐
Yield: 24 pieces
Pumpkin Spice Blondie Bites
Bite size pumpkin spice blondies with cream cheese frosting. Perfect dessert for Thanksgiving and Halloween.
Ingredients
Blondies
1 cup light brown sugar, packed
1/2 cup butter, melted
2 tsp vanilla extract
1/2 tsp salt
1 egg
1 cup all-purpose flour
2 tsp pumpkin pie spice
Topping
1 12oz can cream cheese frosting
1 tsp pumpkin pie spice
Instructions
Preheat oven to 350F.
In a large mixing bowl stir together the brown sugar, butter, vanilla, salt and egg until fully combined.
Stir in the flour and pumpkin spice.
Spray mini muffin tins with Pam spray for baking.
Spoon batter into muffin tins filling cups about two thirds of the way.
Bake for 13-15 minutes until toothpick inserted in the centre comes out clean.
Allow to cool for a few minutes before removing the blondies from the muffin tins.
Allow the blondies to cool completely before frosting.
Spoon the frosting into a piping bag fitted with a large star tip.
Pipe frosting onto the blondies.
Sprinkle pumpkin spice on top of the frosting.
Enjoy!
Nutrition Information:
Amount Per Serving:
Calories:

150
httpv://www.youtube.com/watch?v=0TTZWOR55Yk
This post contains affiliate links. Read our disclosure here.
As an Amazon Associate I earn from qualifying purchases.