These Cheesy Macaroni Bolognese Bites are a great party snack or could even be served for dinner.
I love Pillsbury refrigerated dough products. They are super convenient and can be used in so many different recipes.
I used their country biscuits for my Cheeseburger Casserole and Cajun Chicken and Biscuits Casserole.
For my Mars Bar Stuffed Crescent Rolls I used Pillsbury crescent dough.
Today I decided to come up with a recipe for one of their other products.
I've only ever used their wiener wraps before to make pigs in a blanket but I love the flavour and texture of the dough.
I thought they would be an awesome shell for some macaroni bites.
I started by cooking some macaroni and then rinsing it in cold water.
I cooled off my macaroni because I didn't want my cheese to melt when I added it to the pasta. I wanted it to melt later in the oven.
Then I diced up some string cheese and added it to the pasta along with some Bolognese sauce.
I pressed out the wiener wraps before placing them in greased muffin cups to make the pieces of dough larger.
It is important to have some dough hanging out the sides of the muffin cups because you will need to fold it over the macaroni.
I filled each dough cup with macaroni and then folded the ends of the dough over top pressing down gently on the seams to seal them.
Then I baked the macaroni bites until they were a beautiful golden brown.
Enjoy this delicious snack straight from the oven and it will be oozing with gooey cheese.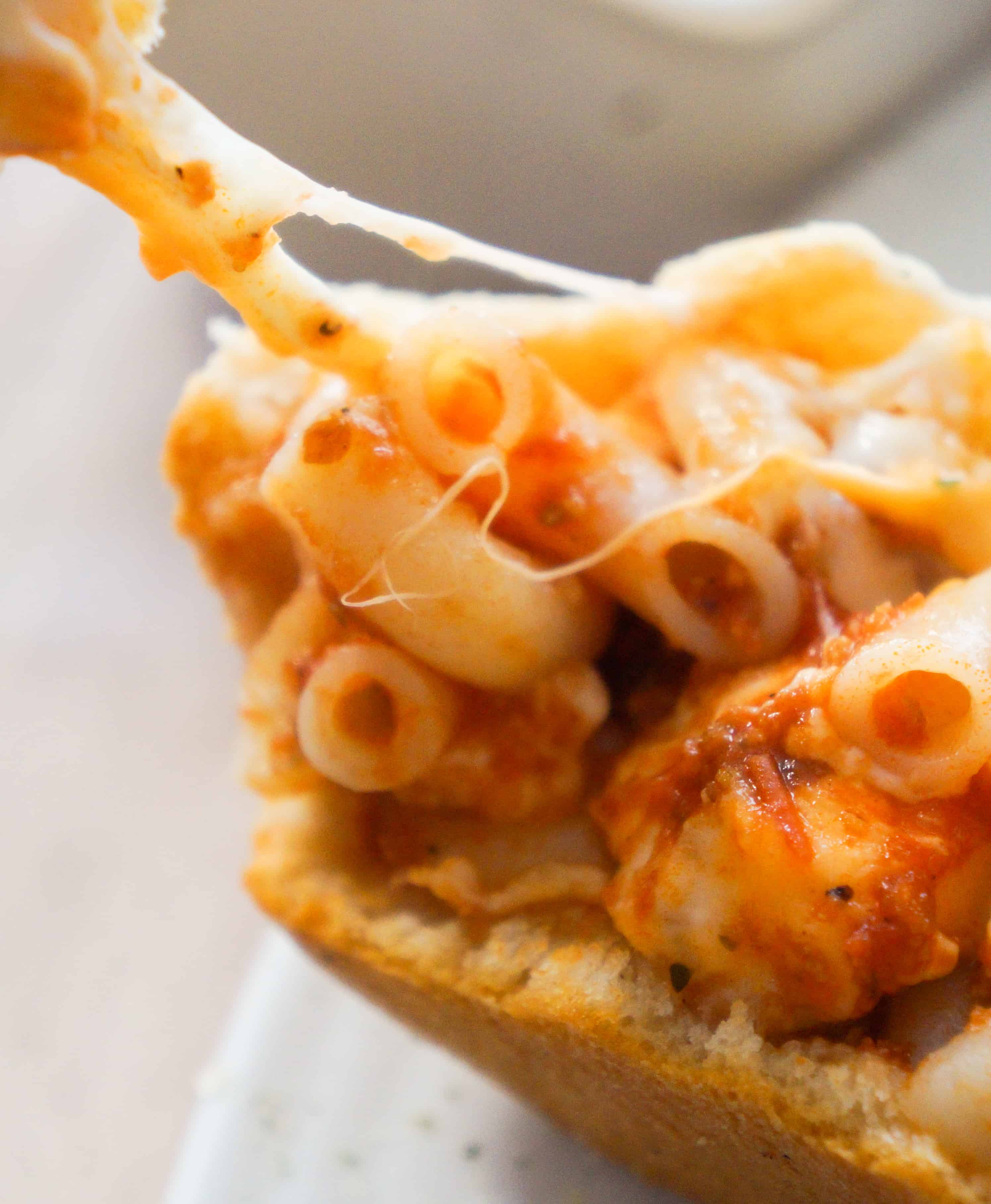 Serve with the remaining Bolognese sauce heated up for dipping.
Try these tasty Cheesy Macaroni Bolognese Bites the next time you are entertaining.
If you are looking for more party food ideas check out Bacon and Onion Dip, Sweet Chili BBQ Chicken Sliders and Chocolate Peanut Butter Cheesecake Dip.
Yield: 12 Macaroni Bites
Cheesy Macaroni Bolognese Bites
Pillsbury dough stuffed with macaroni, cheese and bolognese sauce baked in muffin tins.
Ingredients
1 cup macaroni
1 24 oz jar bolognese sauce, or your favourite pasta sauce
1 pinch salt
1 pinch pepper
8 pcs marble cheddar string cheese
2 cans Pillsbury wiener wraps, 6pcs per can
Instructions
Add the macaroni to a pot of boiling water and cook until tender. About 8 minutes.
Preheat oven to 375F.
When macaroni is cooked drain and rinse with cold water to cool it down.
Pour macaroni into a medium mixing bowl and stir in 1 cup of Bolognese sauce.
Cut each cheese string into 8 pieces and then stir the pieces into the macaroni. Also stir in the salt and pepper.
Press out each piece of wiener wrap dough to make them thinner and larger.
Lay the pieces of dough in greased muffin tins making sure that some dough comes up over the sides so that you can fold it over your macaroni later.
Fill your dough cups with the macaroni mixture and then fold the ends of the dough over top. Press down the seams gently to seal them.
Bake the bites for 13-16 minutes until golden brown.
Heat up the remaining Bolognese sauce and serve with the bites for dipping.
Enjoy!
Nutrition Information:
Yield:
12
Serving Size:
1
Amount Per Serving:
Calories:

232
Total Fat:

16g
Saturated Fat:

7g
Trans Fat:

0g
Unsaturated Fat:

7g
Cholesterol:

44mg
Sodium:

375mg
Carbohydrates:

10g
Fiber:

1g
Sugar:

2g
Protein:

13g
This post contains affiliate links. Read our disclosure here.
As an Amazon Associate I earn from qualifying purchases.