Bacon Cheeseburger Pierogies are the perfect comfort food for the cold weather months.
Printable Recipe Card with a Full List of Ingredients and Instructions is Located at the Bottom of the Post.
Be sure to read through the entire post so that you don't miss out on any important tips and tricks!
This easy dinner recipe puts a spin on popular bacon cheeseburger pasta dishes by substituting pierogies for pasta.
Pierogies are delicious dumplings filled with mashed potatoes that can be made from scratch or found in the frozen section of your grocery store.
For this dish I used potato bacon pierogies.
To make my Bacon Cheeseburger Pierogies I started by browning some ground beef with some diced onions for flavour.
While the beef was cooking I also boiled my pierogies.
When the pierogies were cooked I drained them and set them aside.
Once the ground beef was nicely browned I added a brick of cream cheese to the pot along with some ketchup and real bacon bits, and stirred until the cream cheese was fully melted.
Then I added some milk and brought the mixture to a boil.
To the boiling sauce I added some cornstarch dissolved in water and stirred until the sauce thickened.
Once the sauce started to thicken I removed it from the heat and added the pierogies to the sauce pot along with some grated cheddar cheese and chopped green onions.
I stirred the pierogies gently until they were fully coated in sauce being careful not to break them open.
These pierogies are a fun change from pasta dishes.
The soft pockets of mashed potatoes loaded with ground beef, bacon and cheesy sauce will delight your whole family.
Try these Bacon Cheeseburger Pierogies when you need an easy dinner recipe to satisfy big appetites.
If you are looking for more easy dinner recipes check out Loaded Potato Meatloaf Casserole, Cheeseburger Casserole and Philly Cheese Steak Crescent Bake.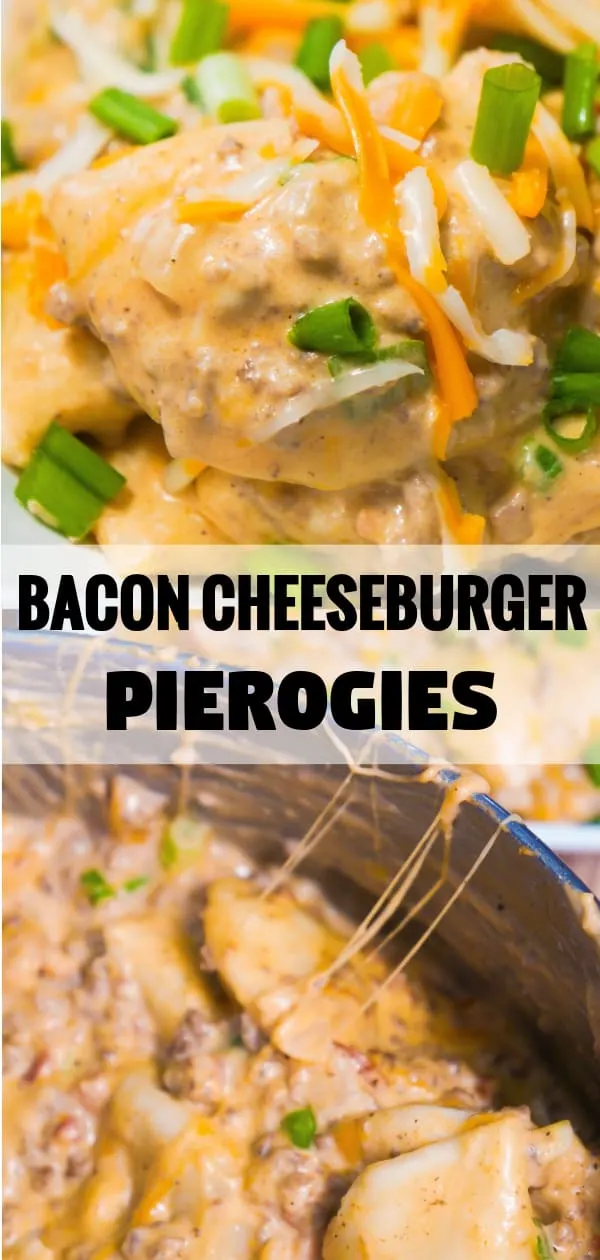 ⇒ Click Here And Follow Me On Pinterest ⇐
Yield: 6 people
Bacon Cheeseburger Pierogies
Bacon Cheeseburger Pierogies are the perfect comfort food. Delicious pockets of mashed potatoes are tossed in a creamy cheese sauce loaded with ground beef and bacon in this easy dinner recipe.
Ingredients
32 oz potato bacon pierogies, frozen
1 lb lean ground beef
1 medium sized white onion, diced
8 oz cream cheese
1/4 cup ketchup
3 oz real bacon bits
2 cups 2% milk
1 tsp salt
1 tsp ground black pepper
1 tsp garlic puree
1/4 cup water
3 tbsp cornstarch
2 cups marble cheddar cheese, shredded
1 bunch green onions, chopped
Instructions
Bring a large pot of water to a boil.
In a large sauce pot over medium high heat, brown the ground beef with the diced white onions and dab of oil or margarine.
Once the water is boiling add the frozen pierogies to the water and boil for 7 minutes. Drain and set aside.
Once the ground beef is completely cooked add the cream cheese, ketchup and bacon bits to the sauce pot and stir until the cream cheese is melted.
Add the milk, salt, pepper and garlic to the sauce pot. Stir well.
Bring the meat and sauce mixture to a boil.
Dissolve the cornstarch in the water and then add it to the sauce.
Stir until the sauce starts to thicken.
Remove the sauce pot from the heat and add the pierogies, shredded cheese and chopped green onions to the sauce. You can keep some of the cheese and green onions aside to use as garnish if you would like.
Stir the mixture gently until the pierogies are all coated in sauce being careful not to break them open.
Sprinkle the cheese and green onions that you set aside over the pierogies and serve.
Enjoy!
Nutrition Information:
Yield:
6
Amount Per Serving:
Calories:

716
This post contains affiliate links. Read our disclosure here.
As an Amazon Associate I earn from qualifying purchases.