This Basil Pesto Chicken Salad Dip is a super easy party dip recipe. This simple recipe only takes ten minutes to whip up.
This recipe serves about four people as an appetizer but can very easily be adjusted to feed a crowd.
In this tasty dip the flavours of chicken, basil and cheese come together to make a great topping for crackers or sliced baguette.
Dips are the ultimate party food. They are generally incredibly easy to make and are great for sharing. There are also so many possibilities of ingredients for the dip itself as well as for foods to dip with.
If you are looking for a quick way to use up some leftover chicken this is the recipe for you.
This Basil Pesto Chicken Salad Dip is great for snacking, lunch or even to serve at a party. Everyone loves dips at a party!
I love basil pesto and use it in recipes awesome. It's great in pasta, Bruschetta and even on sandwiches.
I always have some in my fridge and decided it would be great in a chicken dip.

The leftover chicken was dumped into a food processor with red onions, mayo, basil pesto and Parmesan cheese.
The ingredients are quickly blended and then scooped into a serving dish and topped with more cheese.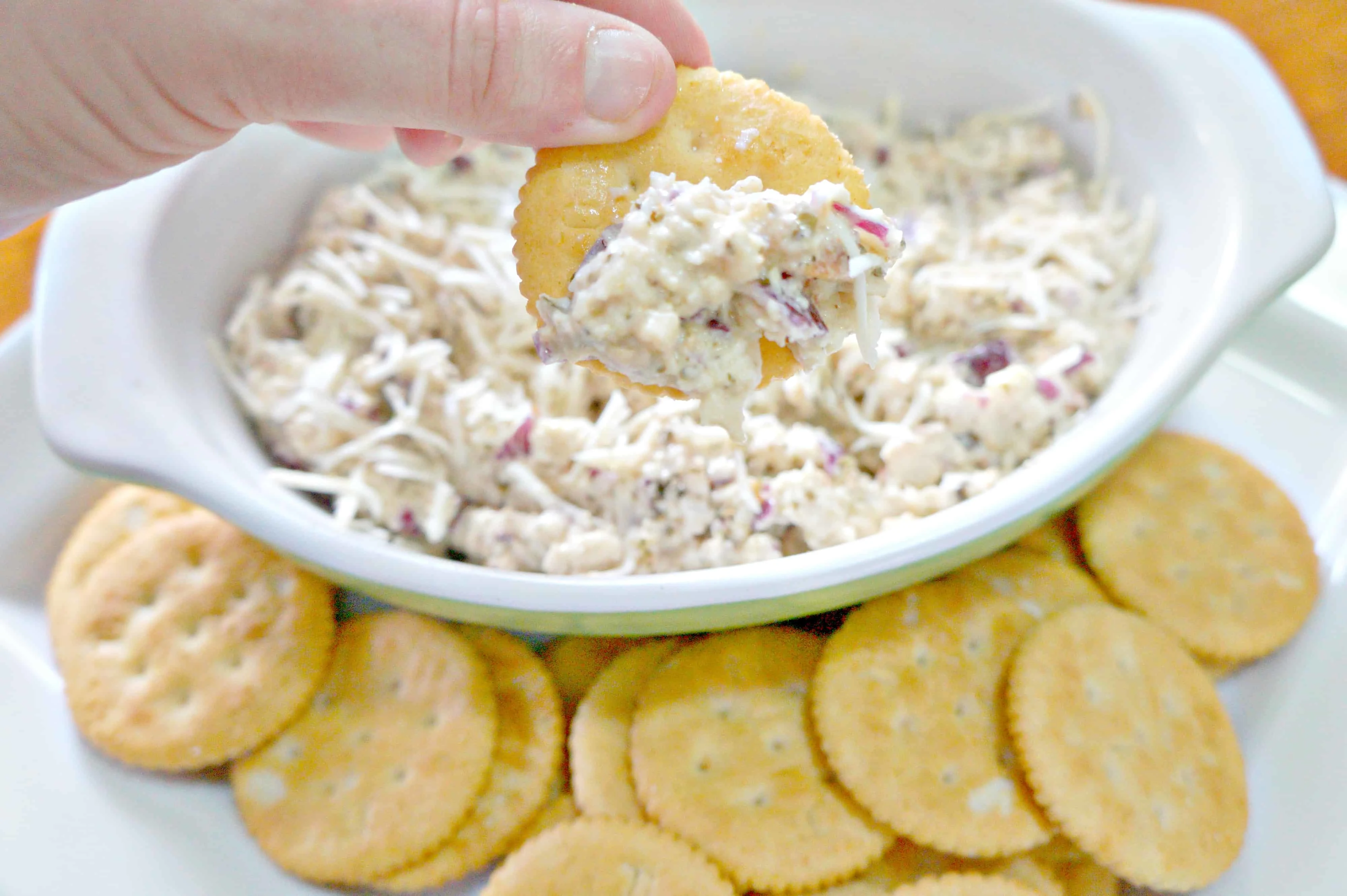 You could serve this dip with many different kinds of crackers or sliced baguette but my favourite is Ritz crackers.
You can never go wrong with Ritz crackers!
Try this Basil Pesto Chicken Salad Dip the next time you are looking for a fun way to use up some leftover chicken. Enjoy it alone or with friends.
If you are looking for more great party recipes check out Bacon and Onion Dip, Sweet Chili BBQ Chicken Sliders and Chocolate Peanut Butter Cheesecake Dip.
⇒ Click Here And Follow Me On Pinterest ⇐
Yield: 4 people as an eppetizer
Basil Pesto Chicken Salad Dip
Chicken salad dip with mayo, basil pesto and parmesan cheese.
Ingredients
2 cups chicken breast, cooked, diced or shredded
1/2 cup red onion, diced
1/2 cup grated parmesan cheese
1/2 cup mayo
2 tbsp basil pesto
1/4 tsp black pepper
Instructions
Set aside 1/4 cup of Parmesan and put all remaining ingredients in food processor. Blend until well combined.
Scoop into serving dish and sprinkle remaining cheese on top,
Serve and enjoy!
This post contains affiliate links. Read our disclosure here.
As an Amazon Associate I earn from qualifying purchases.