This Ultimate Pulled Pork Schnitzel Sandwich is a delicious combination of BBQ and fried pork.
Perfect for lunch or dinner these giant sandwiches will definitely fill you up.
I promised my husband I would make pork schnitzel sandwiches tonight (one of his favourite meals) but I felt like changing it up a little this time. I decided to be completely crazy and do pork two ways in one sandwich.
To make the schnitzels I pounded out some slices of pork loin until they were nice and thin.
I set up a breading station with three containers. One with flour, one with egg wash and one with bread crumbs.
Then I coated the pork slices in the flour followed by the egg wash and bread crumbs.
After breading the pork I fried it in a pot with hot oil.
To go along with the pork schnitzels I also prepared some of my Cream Soda Pulled Pork. A lot of people like to cook their pulled pork in Root Beer but I've always preferred the subtle taste left by the Cream Soda.
I prepared some Cajun mayo by mixing some regular mayo with Clubhouse Cajun Seasoning and topped my sandwiches with lettuce and red onions but you could use whatever condiments and toppings you prefer.
To make this triple decker sandwich you can buy triple decker buns or just use one and a half regular buns for each sandwich.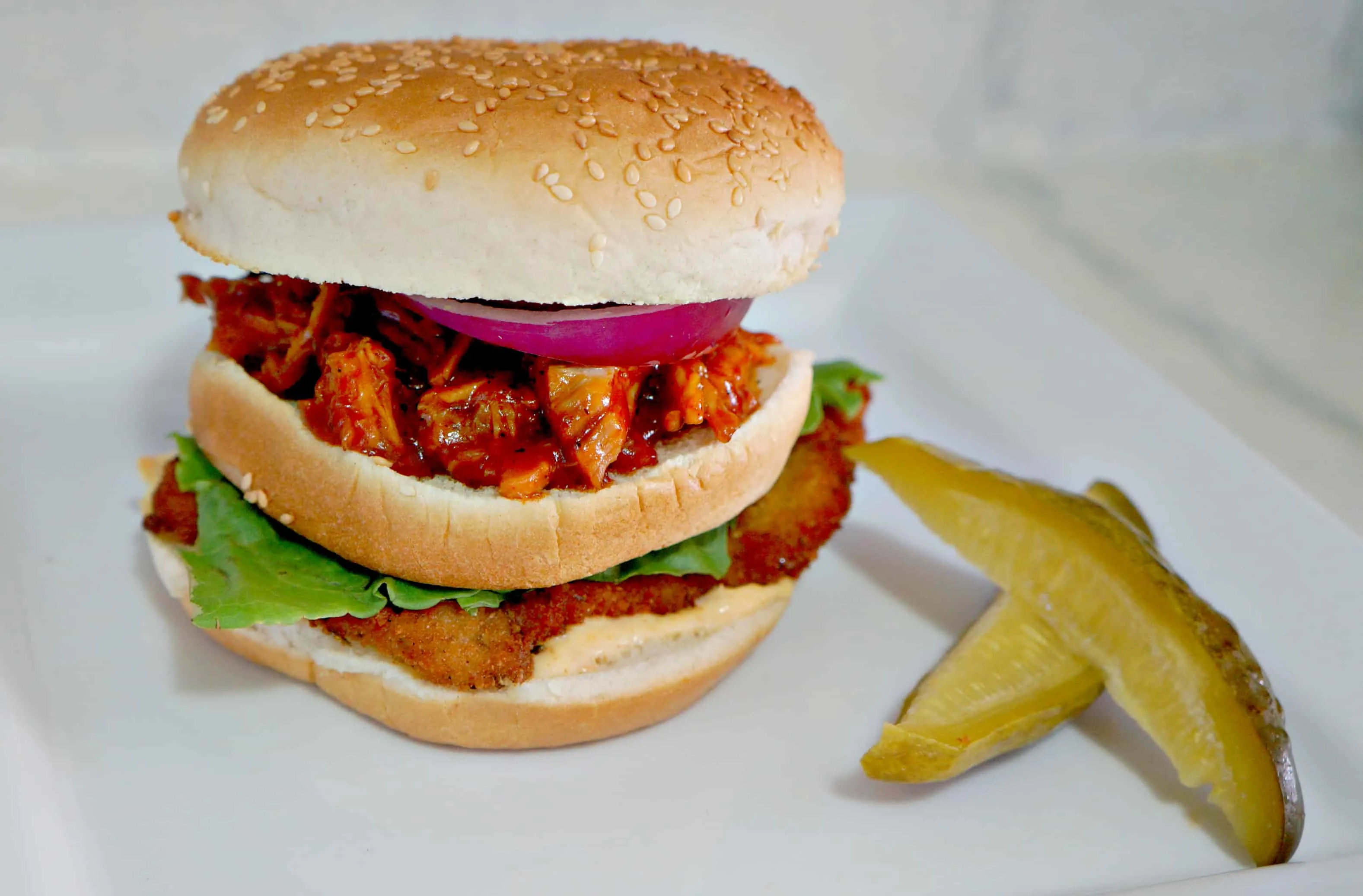 This is the perfect sandwich for pork lovers and it is definitely not a light meal!
Try this Ultimate Pulled Pork Schnitzel Sandwich the next time you are looking for a fun dinner idea.
If you are looking for more sandwich recipes check out Bacon and Banana Peppers Grilled Cheese, Everything Bagel Grilled Cheese, Sweet Chili BBQ Chicken Sliders and Shepherd's Pie Sliders.
Yield: 4 sandwiches
Ultimate Pulled Pork Schnitzel Sandwich
Sandwiches loaded with pulled pork and pork schnitzel
Total Time
1 hour
15 minutes
Ingredients
1.5 lbs pork loin
2 eggs
1/4 cup milk
1/2 cup flour
1/2 cup bread crumbs
1 can cream soda
1 tsp salt
1 tsp black pepper
1 tbsp onion powder
1/4 cup BBQ sauce
4 Triple Decker Hamburger buns, (or 6 regular hamburger buns)
1/4 head lettuce
1 small red onion, sliced
1/3 cup mayo
2 tsp Cajun Seasoning
Instructions
Take the pork loin and cut four slices each 1/4 inch thick. These will be for your schnitzels.
Put the remainder of the loin in a pot with the cream soda.
Add water to cover and season with salt, pepper and onion powder.
Boil gently till pork pulls apart easily with a fork (about 1hr30min).
While the pulled pork is cooking prepare your schnitzels.
Heat your oil for frying the schnitzels. You can use a deep fryer or a pot on the stove with about 1/2 an inch of oil
Pound out each piece with a meat tenderizer.
Prepare a breading station with one container of flour, one of the eggs and milk whisked together and one of bread crumbs.
Coat the pork pieces first with flour, then the egg mixture and finally the bread crumbs.
When pork loin is finished cooking drain the pot and shred the meat using two forks.
Add your favourite BBQ sauce to the pulled pork, stir and continue heating on low.
Fry your schnitzels in the hot oil until golden brown. They will cook very quickly as the meat is so thin.
Remove from oil and set on plate with paper towel to absorb the excess grease.
For the buns you will need three pieces per sandwich. You can use triple decker buns or if your grocery store does not carry them you can just use six regular buns.
Toast your buns for a few minutes in the oven.
Stir together mayo and Cajun seasoning,
Spread Cajun mayo on the bottom bun then place pork schnitzel on top.
Add lettuce, the middle bun, pulled pork, red onion and the top bun.
Enjoy!
This post contains affiliate links. Read our disclosure here.
As an Amazon Associate I earn from qualifying purchases.