This Easy Ground Chicken Casserole is a great weeknight dinner.
This easy ground chicken recipe can be put together in about ten minutes and then thrown in the oven.

Watch the video to learn how to make Easy Ground Chicken Casserole!
Printable Recipe Card with a Full List of Ingredients and Instructions is Located at the Bottom of the Post.
Be sure to read through the entire post so that you don't miss out on any important tips and tricks!
If you make a lot of casserole I highly recommend you invest in some baking dishes with lids
.
They make storing leftovers so much easier and are great for transporting food.
I rarely use ground chicken in recipes and I decided it was time to experiment with the underused ingredient.
I started by dumping the ground chicken, diced onions, basil pesto, Italian seasoned bread crumbs and an egg into a large mixing bowl.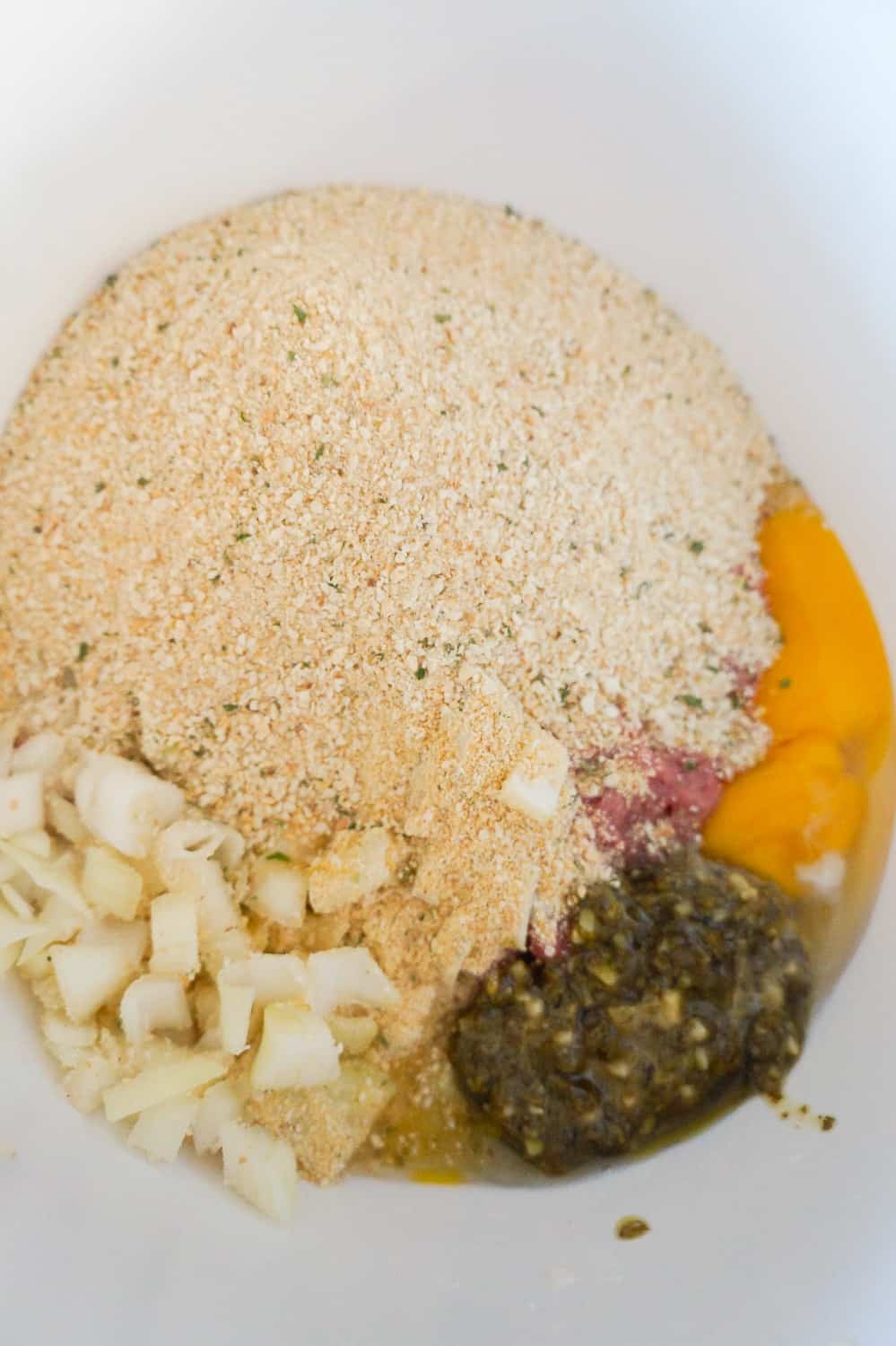 I always use Classico Basil Pesto because it has amazing flavour.
I have tried other brands and haven't been happy with them.
You could also make your own basil pesto from scratch if you prefer.
I used my hands to mix all of the ingredients together really well.
I pressed the meat mixture as evenly as possible into a greased 8 inch square dish.
I spread some Classico Sweet Basil Marinara sauce over the meat mixture.
Then I spread some plain bagels with garlic margarine before dicing them into small bite sized pieces.
I dumped the bagel pieces on top of the marinara sauce and spread them out as evenly as possible.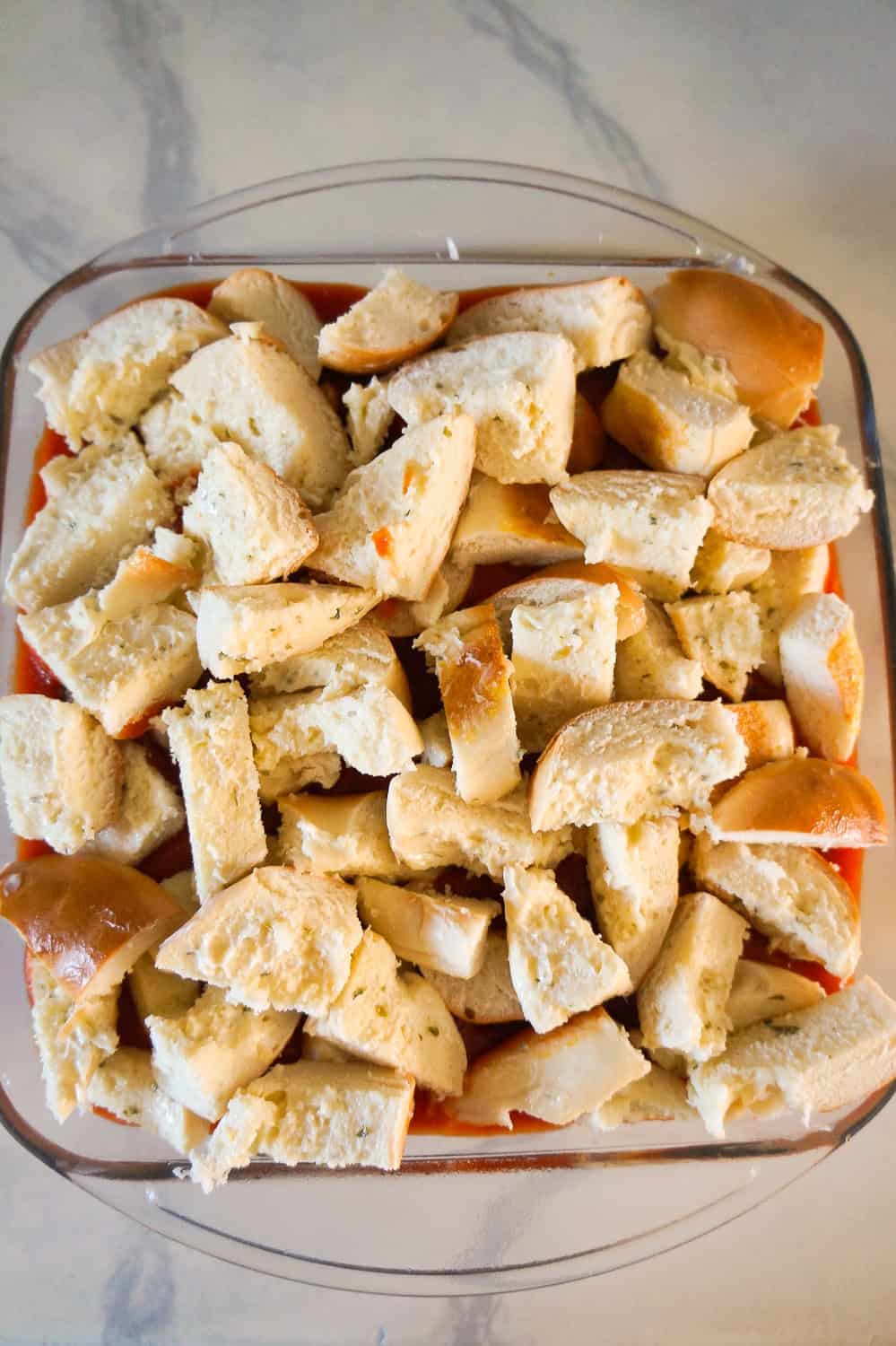 Then I sprinkled some shredded cheddar cheese on top.
I covered the ground chicken casserole with foil and placed it in the oven.
The foil was removed for the final fifteen minutes of cooking to allow the bagels to crisp up a bit.
After I removed the casserole from the oven I allowed it to sit for a few minutes before slicing it.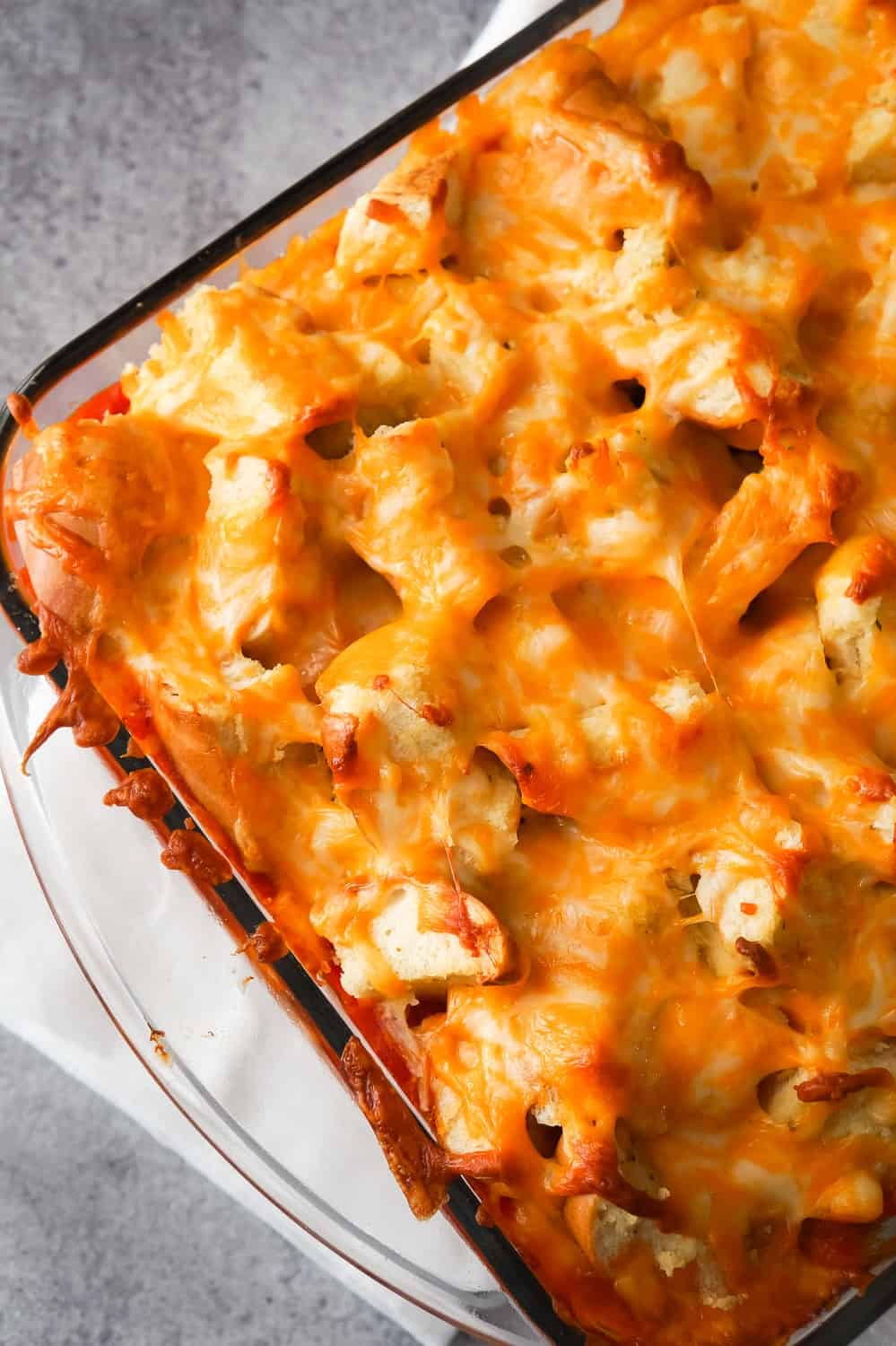 The ground chicken casserole held together really well when I cut and served it.
I am really happy with the way this recipe turned out.
I think I will be using ground chicken in recipes more often.
This is a great Italian flavoured dish that would pair really well with a side of Caesar salad.
Try this Easy Ground Chicken Casserole when you are looking for a no fuss dish that doesn't sacrifice flavour.
If you are looking for more easy casserole recipes check out Loaded Potato Meatloaf Casserole, Cajun Chicken and Biscuits Casserole, Chicken and Green Bean Casserole and Cheeseburger Casserole.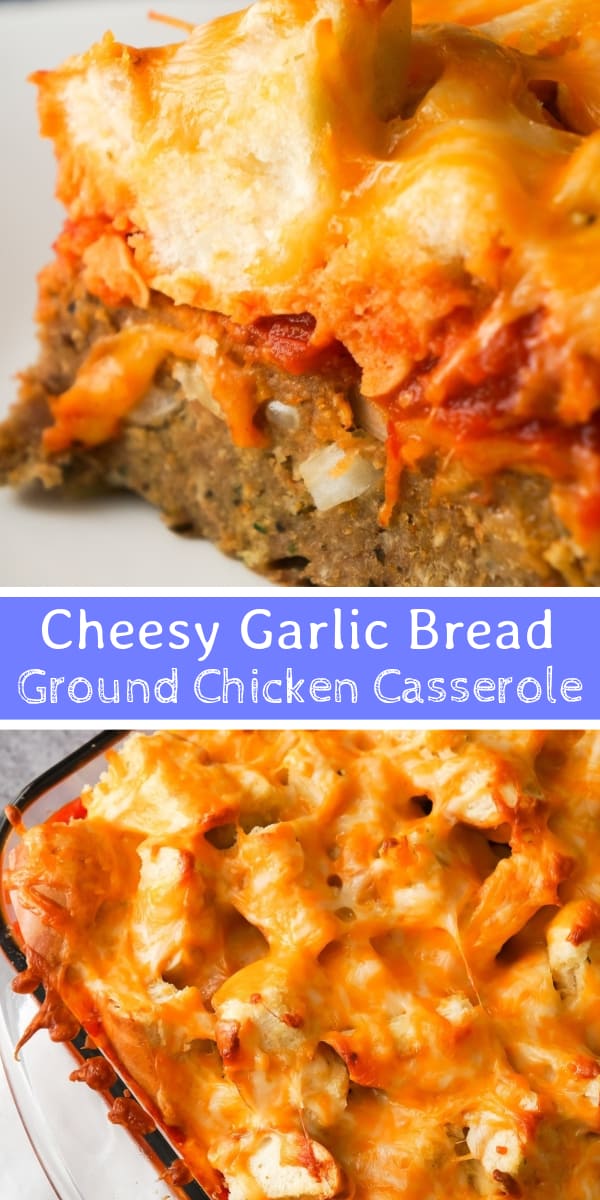 CLICK HERE to save this recipe to Pinterest!
⇒ Click Here And Follow Me On Pinterest ⇐
Yield: 4 people
Easy Ground Chicken Casserole
Easy Ground Chicken Casserole is a simple but delicious dinner recipe. The ground chicken base is topped with marinara sauce and cheesy garlic bread topping. This easy casserole is the best ground chicken recipe.
Ingredients
1 lb lean ground chicken
1 cup white onion, diced
2 cups seasoned Italian bread crumbs
2 tbsp Classico basil pesto
1 egg
2 cups Classico sweet basil marinara sauce
3 plain bagels
1/4 cup garlic margarine spread
1 1/2 cups marble cheese, grated
Instructions
Preheat oven to 375F.
In a large mixing bowl combine ground chicken, onions, bread crumbs, pesto and egg. Use your hands to mix well.
Press meat mixture into a greased 8 inch square baking dish.
Spread marinara over meat mixture.
Cut bagels in half and spread with garlic margarine.
Dice bagels into small bite sized pieces.
Spread bagel pieces over the marinara sauce.
Sprinkle the grated cheese over the bagels.
Cover loosely with foil. You don't want to press the foil down or it will stick to the cheese.
Bake for 25 minutes.
Remove foil and continue cooking uncovered for 15 minutes.
Remove from oven and allow to rest for a few minutes before slicing and serving.
Enjoy!
Nutrition Information:
Amount Per Serving:
Calories:

995
More Casserole Recipes
This post contains affiliate links. Read our disclosure here.
As an Amazon Associate I earn from qualifying purchases.